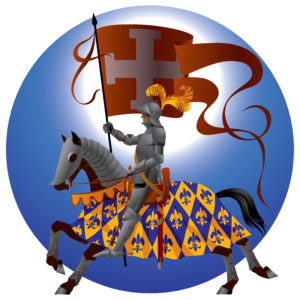 Our company name, Banneret Betten Inlet Press, is directly associated with knighthood. What does a knight exemplify or strive for? One word that immediately comes to mind is chivalry. The Cambridge Dictionary (of Cambridge University Press) defines chivalry as: "very polite, honest, and kind behaviour..." and "the system of behaviour followed by knights in the medieval period of history, that put a high value on honour, kindness, and courage." All of the above would be welcome in any society, but are they valued enough in this period of human history? Does honesty and responsibility clash with commercialism? Can kindness and politeness live an egocentric world? Will courage win over apathy? It all comes down to individuals and their daily choices.
How to live like a knight:
1) Be kind.
How hard is it to treat others the way you want to be treated? Tact is good. Kind words and polite niceties smooth communications. Kind acts promote good feelings.
2) Be bold.
Courage is necessary. Courage to change or to try something new. Courage to stand up for another and for what you believe in. Courage to serve our worldwide kingdom.
3) Be true.
Be honest and loyal in all relationships, personal and professional. Be true to your word by keeping promises and commitments so that you will be trustworthy.
We at Banneret Betten Inlet Press take the pledge to do our best to live up to the expectations of chivalry. Chivalry will never die if you put your best self out there.
It only takes one good knight.